Since last year's #MormonPoetrySlam was, by my accounting, a success (peruse the event archive here and review the performances here), I've decided to make it an annual event. Here's this year's call for submissions:
It's time for the 2nd Annual #MormonPoetrySlam! This isn't your run-of-the-Green-Mill slam, however—among other things, it's not a live, face-to-face event; there will be no time limits placed on performances; and participants won't be reading their own poems. But it will be a competition in which individual performances are judged by an audience of the readers' peers.
Here are the rules:
1. All readers are welcome. You don't have to be a poet or affiliated with Mormonism to participate.
2. Pick a poem written by a Mormon poet. The poem can be on any topic and of any length, but it must have been written by a poet (living or dead) who maintains/maintained some affiliation with Mormonism. If you're not sure where to start, you can find lists of Mormon poets here, here, and here.
3. Record yourself reading/performing the poem. At the beginning of your performance, state the title of the poem you're performing, the poet's name, and "Read by [your name]." For instance, if I were performing Vernice Wineera's poem "Heritage," I would begin: "'Heritage' by Vernice Wineera. Read by Tyler Chadwick." Be sure your recording is clear and in an easy-to-work-with audio format (i.e., .mp3, .wav, .m4a, etc.). If you don't have access to audio recording software on your computer or your phone, here are three easy-to-use online resources: recordmp3.org, vocaroo.com, and SoundCloud.com.
Remember: your performance will be judged by an online audience of peers, so perform well. If you want to participate but are anxious about reading your poem aloud, check out these resources provided by the Poetry Out Loud National Recitation Contest. They might help alleviate some anxiety.
You're welcome to submit up to three performances.
4. Submit your audio file(s) or a link to your audio file(s) (if you recorded online) via this email address:

Format the subject line as follows: [Your full name] reading "[Poem title]" by [Poet's full name]. So, again, if I were submitting the performance referenced above, my subject line would be: Tyler Chadwick reading "Heritage" by Vernice Wineera.
**The submission deadline is midnight, November 15 November 22, 2014.** That gives you a month from today to submit your performance(s).
After the submissions window closes, I'll post the entries, the rules for judging, and the prizes participants will be vying for.
In the meantime, share the #MormonPoetrySlam news far and wide, using the eponymous hashtag if you so desire. And after you've participated yourself, encourage others to join the fun. To that end, in fact, here's an image and a reading (the one I've been at all through this post) to pass along through your social networking channels and to whet your appetite for what's to come.
Receive event updates by joining/following the event on Facebook.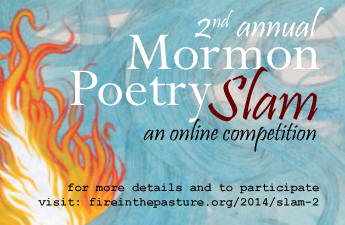 ***