About Fire in the Pasture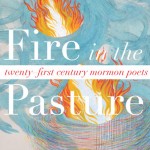 This website is maintained by Tyler Chadwick, poet, literary critic, and editor of Fire in the Pasture: Twenty-first Century Mormon Poets. (Excuse the following abrupt slip into the first-person.) It began as a project I pursued on my original blog, chasing the long white cloud, during National Poetry Month 2009. In that project I linked to and discussed a poem a day by a Mormon poet. I'd always intended for my Mormon Poetry Project (as I called it) to extend beyond that single month of postings and, after the anthology was released in October 2011, I picked it up again, this time on my tumblelog, Tyler Chadwick: Mormon Poets / Poetries / Poetics. I began to offer my readings then as a way to promote the book specifically and poetry generally and, I hoped, to spark broader discussions about Mormon poets, poetries, and poetics. But after realizing that Tumblr wasn't giving me quite the archive I wanted, I laid down roots here and imported and reformatted my Tumblr posts to make the cache more accessible and user-friendly.
My intention is for this site to serve as an extension of the work begun with both my Mormon Poetry Project and with Fire in the Pasture: Twenty-first Century Mormon Poets. It does this, first of all, by highlighting the poets included in the anthology and by exploring their poetry in greater depth, most often one poem at a time, though I'll be posting other explorations, including book reviews, too. Secondly, it highlights other poets with ties to the Church of Jesus Christ of Latter-day Saints who, for whatever reason, were not included in the anthology. And all to the end—again—of promoting poetry (including the anthology) and of sparking broader discussions about Mormon poets, poetries, and poetics.
About the Header Image and the Title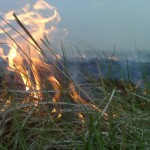 The header image for the site is a modified version of a photo taken by Debbie Lyons-Blythe, "a cattle rancher in central Kansas, in the heart of the Flint Hills" (so her online bio says). It originally appeared in a post on Ms. Lyons-Blythe's blog (Life on a Kansas Cattle Ranch) in which she discusses grassland management via fire. Her description of the grassland management process resonated with the reasons I titled both the anthology and this site "Fire in the Pasture." In her words,
In the Kansas Flint Hills, the best way to maintain the health of the prairie ecosystem is to burn off the old dead grass, kill the invading scrub brush and cedar trees and restore the prairie to its roots—literally and figuratively! The natural state of the prairie is grass, but if grass [is] overgrazed, eroded or otherwise poorly managed, it will begin to grow woody shrubs and eventually cedar trees that will choke out the native grass and ruin the diversity of the prairie.
This is a destructive process, yes, but elsewhere she adds that "Once a properly timed burn is complete, within days the new grass begins to grow. It is amazing how fast the black earth turns green with new grass."
So: to maintain an ecosystem's health, to restore a field to its roots and thereby foster new growth, and to promote ecological diversity—all worthy reasons, I think, to responsibly set fire to the pasture, then to attend to the flames.
Disclaimer
The views expressed on this site do not reflect those of the Church of Jesus Christ of Latter-day Saints.
Contact Info
Have comments, questions, suggestions, etc.? Would you like to submit a Guest Post that explores Mormon poets, poetries, or poetics? Contact me here and we'll chat.